Bishop of Salford: Pope appoints Bishop John Arnold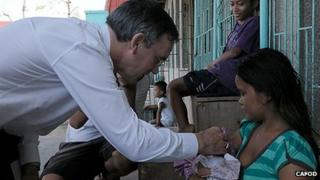 The Pope has appointed Bishop John Arnold as the new Bishop of Salford.
Bishop Arnold, 61, currently an auxiliary bishop in Westminster Archdiocese, becomes the 11th bishop to lead Roman Catholics in the Diocese of Salford.
He succeeds Bishop Terence Brain who stayed on after reaching the retirement age of 75 until his successor was appointed.
The Salford diocese covers Greater Manchester and North East Lancashire.
'Much trepidation'
"I accept the appointment with much trepidation but will do all I can to serve the people, priests, and religious of of this diocese as we all seek to respond to Pope Francis' call to be 'missionary disciples'", said the new bishop.
Bishop Brain, who paid tribute to his successor, said: "He has great gifts to share with us and I have every confidence that he will be happy within the family of God of Salford Diocese."
The new bishop, who was once based in Westminster Cathedral, is chair of Cafod, the overseas aid agency of the Catholic Church in England and Wales.
Sheffield-born Bishop Arnold was ordained a priest in 1983 and bishop in 2006.