Adam Uyiekpen death: Attorney general to review Tracy Carrington's sentence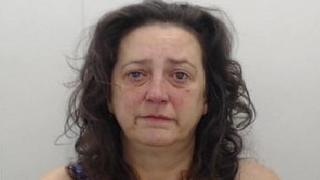 A sentence given to a drunk driver who killed a pedestrian in Manchester will be reviewed by the attorney general.
Adam Uyiekpen died after disqualified driver Tracy Carrington's car hit a bus stop on Moston Lane on 2 August.
Carrington, 51, was jailed for six years and four months after admitting causing death by dangerous driving.
Graham Stringer, Labour MP for Blackley and Broughton, referred the case to the attorney general as he deemed the length of her jail term insufficient.
He said Carrington was "a danger to society and she will be out in less than three years. The sentence is not appropriate."
Mr Stringer said the "basis of sentencing, as well as what's happened to the victim, is will this person continue to damage the lives of others with their offending?
"The evidence is that she is someone who has not learned from previous convictions and yet the sentence fell a long way short of what was available to the court."
Mr Uyiekpen, 32, suffered serious head injuries and died at the scene.
A spokesman for the attorney general's office said a decision on whether to refer the matter to the Court of Appeal would be made by 22 October.
Carrington, of Routledge Walk, Harpurhey, also admitted driving while disqualified. At Manchester Crown Court on 24 September, she was also banned from driving for life.
Causing death by dangerous driving carries a maximum prison sentence of 14 years.
Sentencing guidelines for the offence cover three levels of seriousness - level one which ranges from seven to 14 years in prison, level two which allows between four and seven years, and level three which carries a term of between two and five years.