Alan Henning murder: PM to consider national honour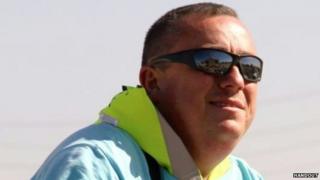 Prime Minister David Cameron has said he will consider recognising murdered British aid worker Alan Henning with a national honour.
It follows a request from Barbara Keeley, Labour MP for Worsley and Eccles South during Prime Minister's Questions in the Commons.
She said her constituency had lost a hero who ignored his own safety to take aid to children in need in Syria.
Mr Cameron described it as a "very good suggestion".
The 47-year-old aid worker, from Eccles, Salford, was killed by Islamic State (IS) militants after he was captured in December while on an aid convoy in Syria.
'About helping others'
Ms Keeley said: "People from across this country have told me that they believe this noble sacrifice should be recognised in some way by a national honour and by support for his widow and children."
Asked whether Mr Cameron supported this idea, he replied: "I will look very carefully at the suggestion you make because I think you're absolutely right that Alan Henning was a hero.
"He went to serve others, he went with no thought of his own safety, but it was about helping other people in their time of need.
"You make a very good suggestion which I will take away and look at."
Hundreds of people attended a memorial service in Manchester last weekend, including Mr Henning's widow Barbara and two children.
Last month, MPs voted to authorise RAF air strikes against IS in Iraq at the invitation of the Iraqi government.
The UK is among more than 40 nations that have joined forces to challenge the extremist group.