Newton Heath cleaver attack on man 'rumoured to have talked to girls'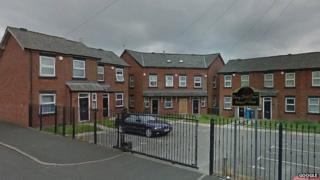 A man who was "viciously attacked" with a cleaver following rumours he had been talking to teenage girls has partially lost his sight, police have said.
The 34-year-old was set upon by two men in a house on Daisy Bank Court, Newton Heath, Manchester on 10 October.
He suffered a fractured cheekbone and a head wound which needed 40 stitches.
Police said rumours about the man's comments to the girls had been investigated and "no evidence of criminality" was found.
A spokesman said the two men had "burst into the house and one repeatedly punched [the man] in the face".
"As the victim tried to escape the attack, he tripped over.
"While on the floor, the second man sliced part of his face open with a meat cleaver, leaving him a fractured cheekbone, partial loss of sight in one eye and a 20cm wound."
'No justification'
He said both men were white and one was tall, chubby and in his mid 30s with short blond hair and blue eyes. The other was of average height, thin and in his early 20s, with short black hair, blue eyes and dark stubble.
The men fled in a small black car with two white stripes running over the bonnet and the top of the car, he said.
Det Con Andrea Holden-Cullum said there was "never any justification for using a meat cleaver to slice someone's face open".
"I am aware there may be rumours in the community about comments this man may have made leading up to the attack, but I want to assure people we have investigated that incident fully and found no evidence of any criminality."
She said officers and the public "need to focus on this crime and the fact this man has been savagely assaulted" and asked anyone with information to contact police.