Life in the UK: Museum tours and chippy trips offered to immigrants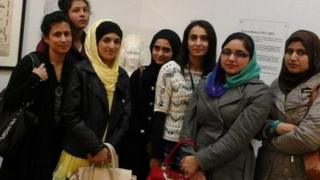 A new programme featuring trips to museums, art galleries and other cultural hotspots is being offered to immigrants to help them better settle into life in the United Kingdom.
The so-called "integration tours" aim to improve their English language skills as well as helping them prepare for their 'Life in the UK' citizenship test.
The European Union-funded scheme is being implemented in the UK with the assistance of the Home Office.
One such project, in Rochdale, Greater Manchester, aims to work with 60 immigrants by the middle of next year. Similar schemes are taking place in Blackburn and Bradford.
Among the first participants in Rochdale is Rabia Majeed, who moved to Britain from Pakistan a year-and-a-half ago after getting married.
The 24-year-old is currently on a spouse visa and preparing for her 'Life in the UK' exam, which she needs to pass in order to qualify for indefinite leave to remain in the UK.
"For me, going to museums and seeing the history of the UK has been very useful in terms of understanding the British culture and also giving me confidence to speak English with other people," she said.
"Just sitting in the classroom learning from a book or revising questions doesn't suit me. If I go out to even the fish and chip shop during a trip, it helps me to integrate with British people and really practise my English."
---
Life in the UK test excerpts
Answers at the foot of the page
---
Many of those taking part in the scheme are young women like Rabia, who have come to the UK from Pakistan and Bangladesh on spouse visas.
Each year, an estimated 150,000 people take the UK citizenship test, which covers topics including sport, music and history.
Kousar Bi, an integration outreach officer at the Kashmir Youth Project, a community group in Rochdale, was keen to explain how the programme works.
"We encourage them to speak English instead of their mother tongue when we go out on tours.
"So, if we're at an art gallery, we'll discuss the paintings and its significance. It really provides them with a lot of practical answers for their citizenship tests.
"A lot of these women are housewives and are usually at home, so to have the chance to experience British culture first hand and put their English skills into practise on the tram or in the market is an effective way of helping them to integrate."
Aqeela Waqas Ali came to the UK five months ago. She admits she misses many of the things she left behind.
"Of course I think about Pakistan a lot, home is home you know? You can't replace the feeling you get when you know how everything works," she said.
The 26-year-old was initially apprehensive about whether she would be able to learn English but soon gained confidence after enrolling on the programme.
"It's nice to not just be comfortable speaking English but also knowing why British people do things like wear poppies or celebrate Halloween," she said.
"Because I've seen it with my own eyes, it makes me understand it better."
You can hear more on this story on the BBC Asian Network on at 13:00 BST on Friday or listen back on the BBC iPlayer.
Test answers: 1: (A), 2: (C), 3: (D).