Stolen Land Rover set alight in Sale Co-operative 'ram raid'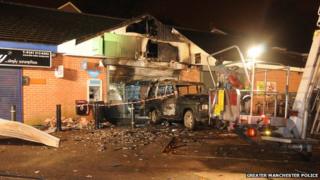 A stolen car has been reversed into a Greater Manchester supermarket and set alight in what police believe was a ram raid.
The green Land Rover Discovery was set on fire at the Co-operative store on Marple Road, Sale at about 01:00 GMT, police said.
Firefighters were called to deal with the blaze, which spread to the shop.
Police said it was believed those involved used the car to "smash the shutters in a bid to get inside".
A spokesman said no-one was injured.