Manchester gang jailed after men held hostage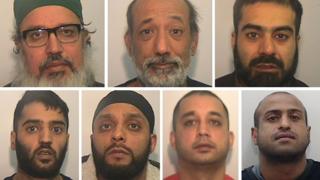 Seven men have been jailed after two hostages were beaten and threatened with weapons in a "terrifying" hold-up.
The victims were threatened with a hammer, knife and a hot iron as they were held overnight and ordered to hand over money at a house in Manchester.
They arrived believing they were going to complete the sale of the house in Wordworth Avenue, Cheetham Hill, police said.
But instead the men were held hostage by the gang, who demanded £14,000.
Greater Manchester Police (GMP) said the group, led by 44-year-old Tariq Dhamial, took a wallet, watch, bracelet, phone and keys from one of the victims and threatened to assault both of them if they did not hand over the money.
Both victims were forced to ring their wives and arrange the transfer of £5,000 and £9,000 into two bank accounts.
'Wives alerted police'
However, the men managed to tell their wives they were being held hostage and police arrived at the address and arrested five of the gang.
Two other men were detained days later.
All seven admitted two counts of false imprisonment on the first day of their trial.
Dhamial was sentenced to four years in prison at Manchester Crown Court.
Fateh Kashief Ahmed, 47, Shakoor Ahmed Butt, 35, Shazwan Ashraf, 31, Ghulam Ali, 33, and Abdul Zubair Qadus, 33, were each sentenced to 32 months, while Mohammed Khateer Ali, 31, was sentenced to 27 months.
Senior investigating officer Duncan Thorpe, of GMP, said: "The victims were severely beaten and threatened for money that the offenders believed was owed to them from a previous fraud.
"They kept the two victims prisoner for a couple of days and this was clearly a terrifying experience."
He added that a separate investigation was being conducted in relation to the alleged fraudulent activities of the two victims.