Greater Manchester busway: Meeting for Leigh-Ellenbrook link residents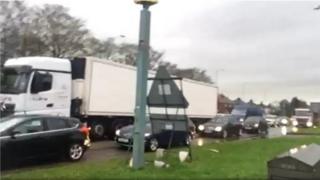 Residents who say their lives have been blighted by the construction of Greater Manchester's first busway are set to meet transport bosses.
Work started last year on the 4.5 mile (7.2km) Leigh-to-Ellenbrook route.
But a number of residents said the £68m scheme had created traffic chaos, with some parents even claiming the disruption had forced them to find different schools for their children.
Transport for Greater Manchester (TfGM) apologised for the disruption.
Spokesman Peter Boulton said: "When complete, the bus priority scheme will make it easier for people to get to jobs, shops, universities, and hospitals in Leigh, Tyldesley, Atherton, Salford and Manchester."
But critics say there is not sufficient demand for the busway and that it will actually cause more congestion.
Petition
Leigh MP Andy Burnham and Wigan Council will host a public meeting with TfGM at noon on Saturday in Tyldesley, where construction work recently started in the town centre.
Nearly 1,800 people have signed a petition asking Wigan Council to hold a judicial review on the decision to approve the busway.
Petition organiser Sandra Robinson wrote on the website: "We do not believe that the public consultation was carried out properly and thoroughly and therefore requires further scrutiny."
But Mr Boulton described the consultation as "full and thorough", adding that the transport body would "continue to speak with and listen to the local people and businesses whilst the works are taking place".
"Flagship scheme"
Terry Dunn, from Wigan Council, said an awareness campaign was launched in July 2012, followed two months later by a public consultation on the Tyldesley town centre scheme.
He added: "The council has already committed that will we not allow any further roadworks in the area while busway work continues - except in emergency situations.
"The work in Tyldesley town centre will mainly take place off the highway network and should not cause any substantial further traffic disruption in the area."
The busway has been described by TfGM as the "flagship" of wider investment into the Greater Manchester bus network, which includes changes to the busy Oxford Road corridor and the route from Middleton to Manchester city centre.
The work is due to finish next year.