£60m Wigan town centre regeneration plans approved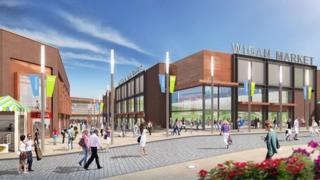 A £60m regeneration scheme for Wigan town centre has been approved.
The existing Galleries shopping centre is to be redeveloped to include bars, a seven-screen cinema and restaurants.
Developer Vale Retails will install fewer but larger shopping units than at present, with the aim of addressing the site's "long-term decline".
Currently, 63 of the 147 retail units in the complex are empty. Under the plans, Wigan market hall will move to Market Street and Woodcock Street.
The Makinson and Standishgate Arcades will be updated to better suit "independent retailers".
It is hoped the redevelopment project, which has been approved by the council's planning committee, will be completed in four to five years.