Murdered nurse Katie Cullen 'badly let down' by police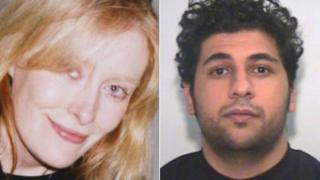 A woman stabbed 130 times in a brutal murder was "badly let down" by Greater Manchester Police, a watchdog said.
Katie Cullen's ex-boyfriend, Iman Saeed Ghaefelipour, attacked the nurse at her house in Stockport in October 2009.
Police withheld vital information about his past when Ms Cullen, 34, reported a death threat, the Independent Police Complaints Commission (IPCC) said.
But Greater Manchester Police said it did not have the power to share this kind of information until 2012.
Ghaefelipour was sentenced to a minimum of 23 years in prison in 2010.
The IPCC said there had been a "catalogue of inaction and missed opportunities" by Greater Manchester Police (GMP).
The police watchdog found Ms Cullen, who worked at the Liverpool Heart and Chest Hospital, had contacted the force four months before the murder to report the threat.
'Appalling' lack of care
She was not warned that in 2007 Ghaefelipour had threatened to kill another ex-girlfriend, and there was "little doubt" he was responsible for arson attacks on her car and home, the IPCC said.
The watchdog concluded the force's investigations into incidents connected to the earlier relationship were "inadequate" and the "necessary connection" was not made between those allegations and his behaviour towards Ms Cullen.
Ms Cullen's family said the force had even "actively encouraged him to go round to her house to repay an outstanding debt".
Her mother Diane Cullen said: "We are distraught at what happened to Katie and utterly appalled at the lack of care she received at the hands of GMP, when she reported the threat to kill her and their decision to keep vital information from her.
"It is inconceivable to us that the two police officers concerned should protect her assailant, a man with a reported history of violence, rather than protect a vulnerable girl who lived on her own and who turned to them for help."
IPCC deputy chair Rachel Cerfontyne said: "[Katie's] family have been devastated by their loss and they are still struggling to come to terms with that fact that not only did the police fail to help her, their actions may have given her false reassurance and, in doing so, increased her vulnerability."
Det Ch Supt Paul Rumney, head of the GMP's professional standards branch, said: "Had there been clearer guidance available to the police in the 2007-2009 period on the disclosure to victims of the potential threats posed by perpetrators, the officers may have done so."