Oldham Mumps development a 'game changer', council says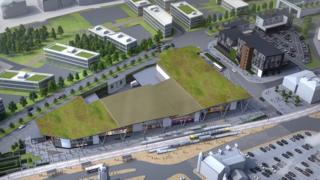 A £60m "game changer" redevelopment for part of Oldham has been unveiled by the town's council.
The plan for Prince's Gate at Oldham Mumps will see 150,000 sq ft (14,000 sq m) of retail space created, along with 800 homes and 700 parking spaces.
The council said the space could "attract missing retail giants" to the town.
Council leader Jim McMahon said the development showed "our aspirations for our future".
The council said it was expected that "significant funding" for the plan would come from private sector investment.
The authority has had interest from Marks & Spencer about opening a store in the development.
Mr McMahon said that was "a massive vote of confidence in what we're doing and potentially a fantastic early Christmas present for Oldham".
The development will be built alongside the Metrolink stop, which opened in 2012.
The council leader said it was "vital we grasp this chance to make the most of our new connection, attract new high street names [and] offer quality town centre living options".
He said pending planning approval, building would begin in 2015, with the opening scheduled for 2017.