Gorton Monastery secures final restoration funds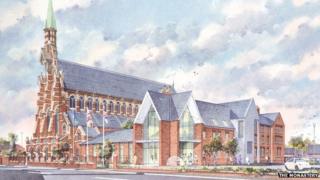 Restoration work on a "Victorian gothic masterpiece" in Manchester can be finally completed after funding was secured by the trust in charge of it.
The conservation of the Grade II listed Gorton Monastery began in 1996.
A grant of £1.7m and a £1m donation mean the final part of the work, including the building of a new wing, can be completed.
The monastery trust's chief executive Elaine Griffiths said the news was "a fantastic Christmas present".
Gorton Monastery, officially known the Church and Friary of St Francis, was built in 1863 and designed by Edward Pugin, whose father Augustus designed the Palace of Westminster.
It was home to a community of Franciscan monks until 1989. After a failed attempt to turn it into apartments, it was handed to the Monastery of St Francis and Gorton Trust in 1996.
A £6.5m project to restore it has been run ever since and the building opened as an events venue in 2007.
'Vital restoration deferred'
The final work, costing a further £3m and expected to be completed by the end of 2016, will see the building of a "Welcome Wing", which will include a new entrance and a community and educational space.
The £1.7m grant from the Heritage Lottery Fund, which follows initial funding of £200,000, and the £1m donation from the Stoller Charitable Trust make up the majority of the funding needed.
The remainder has been supplied by other donors.
Ms Griffiths said the funds were needed due to the collapse of the friary during the original fundraising period.
She said that had meant the trust "almost £1m had to be diverted into saving that part of the buildings, and so vital restoration and conservation work inside the former church has had to be deferred until now".
"Once constructed, the Welcome Wing will allow us to open our doors to the community for the first time in more than 25 years, which is fantastic," she said.