Wigan man jailed for burying wife in shallow grave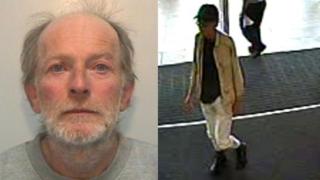 A man who killed his wife then buried her in a shallow grave in their back garden - leaving her there for nearly a month - has been jailed.
The body of Elaine Flanagan, 57, of Wigan Road, Leigh, was discovered by police on 17 August.
Thomas Flanagan, also 57, denied murdering her in a row on 25 July but admitted manslaughter which the prosecution at Liverpool Crown Court accepted.
He was sentenced to 11 years in prison.
Flanagan claimed in an interview to police his wife turned violent and slapped him during the argument and he retaliated by grabbing her by the throat and pinned her up against the kitchen wall.
'She got on my nerves'
He told police she fell to the ground and he believed he had killed her.
Rather than call for an ambulance, he told detectives he began drinking vodka and left her body on the kitchen floor.
A few days later, when her body began to smell, Flanagan dragged her body into a ditch in the garden where they had once tried to dig out a small fish pond.
Police said he carried on his life as normal, for nearly four weeks, until he confessed he had killed her and buried her in the garden to a family friend.
The family friend reported it to police who found Mrs Flanagan's badly decomposed body covered with twigs and leaves in the ditch.
When he was arrested, Flanagan told police: "I've killed her.
"She got on my nerves and I strangled her. I went completely off my head and I'll make a full confession. Sorry mate."
Greater Manchester Police's Duncan Thorpe said it was a "tragic case" in which a woman "lost her life and was denied a proper burial for nearly a month".