Bernard Manning's 'iconic' Embassy club for sale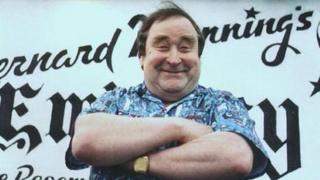 One of the landmarks of Manchester's clubland is up for sale.
The World Famous Embassy Club in Harpurhey was owned by the late controversial comedian Bernard Manning.
The club, founded in 1959, attracted variety show fans from around the UK. It has been owned by his son, who has the same name, since 1999.
Mr Manning Jr said: "I want to see if anybody is interested in running the club as it is or enhancing it and breathing some new life into it."
He told BBC Radio Manchester: "I'm the other side of 50 years of age and I'm thinking of the future because my own children are certainly not interested in getting involved."
Regular cabaret shows at the club ended following Manning's retirement in 1999 and it has since been a pub with a private function room.
"In my opinion I think cabaret is dead but then again some people have ideas, good ideas, maybe it can be brought back in a retro sense," said Mr Manning.
"It's doing very well at the moment - whoever buys it will get the benefit of 56 years' goodwill - it's an iconic place in Manchester."
The Embassy's rise mirrored Bernard Manning's when he became a household name thanks to Granada TV's The Comedians in the 1970s.
It was packed even when the controversial comic was on the road.
Cilla Black and Englebert Humperdinck were among those who could be found performing in the north Manchester venue.
Bernard Manning Sr, who died in 2007, once claimed The Beatles had played at his club but there was no documentary evidence to support that claim.