Greater Manchester Police faces '£70m black hole' after further cuts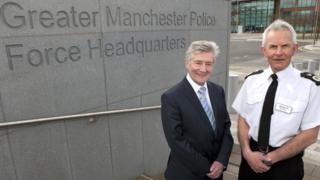 Greater Manchester Police (GMP) faces a "black hole of £70m" due to a further cut in central funding, the region's Police and Crime Commissioner has said.
The government has announced plans for a 5% reduction to budgets across all police forces in England and Wales.
Commissioner Tony Lloyd accused the government of "putting the safety of communities at risk" by pulling £28m from next year's budget.
But the government said police would still have sufficient resources.
'Safety at risk'
Policing Minister Mike Penning said: "Police will still have the resources to do their important work."
But Mr Lloyd said the latest cuts, coming on top of £49.8m already forecast for the next three years, equate to 560 officers.
"It's unacceptable and disappointing that the ordinary, hard-working people of Greater Manchester are once again bearing the brunt of these irresponsible funding cuts," he said.
"We have not shied away from the financial challenges we face and have already transformed how policing is delivered and developed close working relationships with other agencies.
"There are already 1,100 fewer officers on the streets of Greater Manchester with the loss of another 800 to come."
But he warned: "Crime is on the rise. We simply cannot cope with further cuts - the money is running out.
"The government is putting the safety of our communities at risk."
Approximately 7,000 police officers and 3,700 staff currently work for Greater Manchester Police.