FC United: £5.5m football stadium hit by delays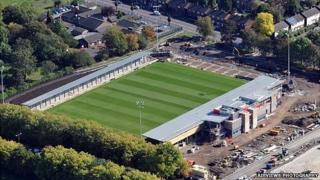 A series of setbacks has postponed the opening of Manchester football team FC United's new £5.5m stadium.
The club, which is owned and run by its members, is building the new ground and community facility in Moston.
Called Broadhurst Park, club staff had initially hoped it would open in September, later postponing the estimated launch date to December.
Now further delays with the construction work mean the stadium may not be completed until February.
Manager Karl Marginson said: "It's like anything - there have been some snagging points.
"As far as I know there has been a little problem with the steel work. On site, we haven't got anywhere where you can store things, so we have to co-ordinate materials arriving. It's taking that little bit longer.
"I think some people get frustrated, but it's just one of those things. When the stadium does open it will be that little bit better."
FC United was formed in 2005 by Manchester United fans in protest at US businessman Malcolm Glazer's takeover.
Many fans at Old Trafford were unhappy with the move as it took the club heavily into debt.
The 4,440-capacity stadium is being part funded by club members and supporters via a community share issue, alongside donations and grants.
Club staff said the plans recently prompted their highest ever season ticket sales.
Matches are currently held at Ashton-under-Lyne club Curzon Ashton's Tameside Stadium.
Mr Marginson said he hoped the stadium would be in use by mid-February.