Royal Bolton Hospital declares major incident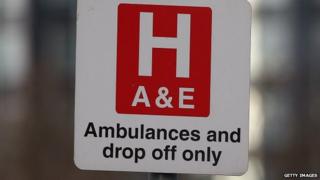 The Royal Bolton Hospital has declared a major incident as staff struggle to cope with the number of patients.
Bolton NHS Foundation Trust took the decision amid "intense pressure" within its A&E department.
The Greater Manchester hospital is among eight hospitals in England to have declared major incidents.
A trust statement said there were 53 people in A&E seeking treatment at 13:00 GMT - 15 of whom were waiting for a bed.
The longest time some patients have had to wait for a bed has been almost 12 hours since the decision to admit them.
'Seriously ill patients'
Andy Ennis, the trust's chief operating officer, said that although some patients were attending A&E who could have received advice or treatment elsewhere, this was not the main problem.
"We have some seriously ill patients who do need to be admitted and our main issue has been the difficulty in quickly freeing up beds and finding places for those patients who no longer need hospital care," he said.
"Calling a major incident is a mechanism by which we can focus all our efforts on delivering safe care for those whose need is most urgent."
The trust said measures taken to try to ease the pressure have included:
Taking clinical staff off non-urgent work to help
Additional transport arranged for people being discharged from hospital
Only the most urgent operations taking place
The trust has also repeated its appeal that A&E should only be used by people who really need it.
Mr Ennis said: "Hospital staff have been working closely with our staff in community services as well as our GP partners and staff in social care to quickly arrange appropriate care for people when they leave hospital, but they are under pressure too.
"I apologise to anyone who has been affected by the current situation, but I repeat that we are doing this in the best interests of patient safety."
Meanwhile, figures published by NHS England show that every major A&E unit in the North West failed to meet targets for waiting times over the Christmas period.
The government wants 95% of patients to be treated within four hours.
In the week ending the 28 December 2014, only 85.4% of patients attending A&E in the region were seen in the target time.
The worst performing hospital trusts were Stockport - which only saw 73.8% in the four hours - Mid Cheshire, with 74.5%, and Warrington and Halton, with 76.5%.
Major A&E units are officially known as Type One units and do not treat minor injuries.