Stockport Council approves Brinnington homes plan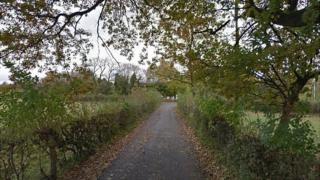 Plans to build 270 homes in Stockport have been given the go-ahead despite a petition signed by thousands of people.
Countryside Properties wants to build the homes in the Brinnington area of the Greater Manchester town, including 70 within Reddish Vale Country Park.
More than 14,000 people signed a petition opposing the plans, which were approved at a Stockport Council meeting on Thursday night.
Residents say the development will be a blight on a "beautiful meadow".
'The right decision'
Pat Ruan, secretary of the Tame Valley Defence Group, said people appreciated the need for more housing but hoped developers would avoid the park.
"We need more open space, not less, because there's a great lack of it," she said.
"We want the councillors to realise that this land is more important than houses."
However, Iain Roberts, Liberal Democrat deputy leader of Stockport Council, said the land earmarked for development represented only "0.7%" of the park.
"It's not a decision we took lightly but I think in this case it's the right one," he said.
"It's difficult to find places to build in Brinnington but we need to do it. I think it is more important than this very small area."
As well as the petition, the council also received 1,700 written objections.