Chorlton cancer patient determined to make the most of her limited time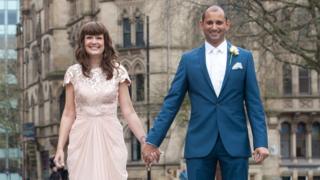 BBC Radio Manchester is taking a journey across Greater Manchester's 10 boroughs to meet some of the most inspiring people who live in the region. Here is the latest in the series:
Life is short, they say, so make the most of it.
Sue Butterworth certainly agrees with that philosophy, and even says that in some ways she feels lucky because she can plan and live her life accordingly.
The 40-year-old former special needs teacher from Chorlton knows her breast cancer - which has since spread throughout her body - cannot be cured, but exudes such positivity and a love for life.
Living with her husband Cassian and their little Jack Russell called Pops, she says she is "making the best memories for herself and her family that she can" in the time she has left.
Sue has compiled a sort of "bucket list" and set about ticking them off with joyful abandon.
She got married at Manchester Town hall, gave a loving home to Pops, and travelled on the Orient Express.
Oh, and eaten a lot of ice cream.
She hopes her story will help others to realise that life is what you make it and encourage people to cherish the precious moments they have with loved ones.
She has thanked Manchester's Christie Hospital for the treatment which is buying her extra time in which to create those memories.
You can hear the Tales of the Ten on BBC Radio Manchester each weekday until Friday, 23 January
Monday, 12 January: Coping with Jack's diagnosis (Wigan)
Tuesday, 13 January: Hitting rock bottom (Stockport)
Wednesday, 14 January: Living with Parkinson's Disease (Oldham)
Thursday, 15 January: 'I waited nine years for answers' (Trafford)