Being jailed for glassing woman helped Jan conquer her alcohol demons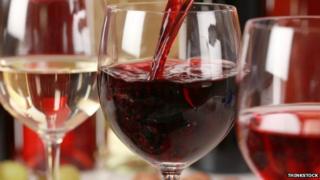 BBC Radio Manchester is taking a journey across Greater Manchester's 10 boroughs to meet some of the most inspiring people who live in the region. Here is the latest in the series:
Most recovering alcoholics talk about the moment they hit rock bottom.
For Jan, it was when she spent a year in prison for grievous bodily harm after being convicted of glassing a woman in an Alderley Edge bar.
The Stockport mother, who did not want to be identified in order to protect her daughter, says cannot remember anything of the 2008 incident.
At that time Jan was drinking about two bottles of wine a night.
Before then, she says she drank sensibly, in order to wind down from her job as a senior executive for a major oil company.
"I used alcohol as an emotional crutch," Jan explained. "It started off as just a glass of wine after work and it turned into two bottles.
"I'd have cleaned a whole football stadium with a toothbrush if it would tell me why this was happening to me at the age of 40."
Before being sent to prison she sought treatment for her alcoholism at a private clinic, and was sober when she was behind bars.
While serving her sentence at HMP Styal in Cheshire she helped others who were struggling to cope with life in prison and, as a result, gained a great deal of respect from other inmates.
And since her release she has been helping others battle addiction in Greater Manchester, saying she "now has a better understanding of herself".
"And I NEVER think of having a drink."
You can hear the Tales of the Ten on BBC Radio Manchester each weekday until Friday, 23 January
Monday, 12 January: Coping with Jack's diagnosis (Wigan)