Man Utd: Glazers 'put club five to 10 years ahead of rivals'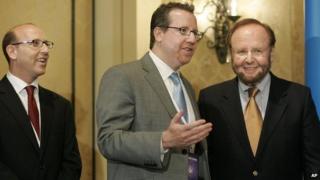 The Glazer family have put Manchester United "five to 10 years" ahead of their rivals, says the man who advised John Henry when he took over Liverpool.
Philip Hall said United's owners had done an "astounding" job building the club's commercial operation, which has secured record sponsorship deals with Chevrolet and Adidas.
The Glazers bought United in 2005 for £790m - it is now valued at about £2bn.
Mr Hall says potential bigger TV deals make the club attractive to investors.
The Glazer family has been selling off parts of the company via the New York Stock Exchange since 2012.
They still own 80% of the club but, thanks to the way the stock is sold, they still control 95% of the voting rights.
US self-made billionaire Ron Baron - the second biggest shareholder behind the Glazers - has described being involved with the Red Devils as an "investment into the most popular television programme in the world".
'Profitable'
Mr Baron, who has spent about $200m (£132m) on United shares through his investment company, recently told US TV channel CNBC: "Manchester United is going to be this fantastic business which I am going to make two or three times my money, our money, in four or five years."
Mr Hall, who represented Henry, Tom Werner and Fenway Sports Group in their 2010 Anfield takeover, and Ellis Short when he bought Sunderland in 2009, said the Glazers "have done an amazing job in terms of building Man Utd into a very self-sustaining and profitable commercial enterprise that, I think, is five to 10 years ahead of their nearest competitor in the Premier League.
"The club is in a much stronger financial position now than it would have been if the Glazers had not been involved."
While he now runs a private equity firm, Mr Hall remains an active consultant to football investors.
Regarding the Glazers' takeover of United, he said: "I can understand the sentiment of people being upset at the way the club was purchased but I think if you look at what they have done over the past 10 years I don't think you can argue with the results."
Other experts in New York are sceptical about the value of Manchester United's shares.
Sam Hamadeh, owner of Privco, a firm which values largely private companies, said United was not a good investment.
"The whole flotation was a terrific business deal for one family, and that's the Glazers," he said.
He warned that investors were getting a different class of stock, with fewer voting rights, than the Glazers.