Sex chat councillor Robert Bleakley: 'Most expensive' in England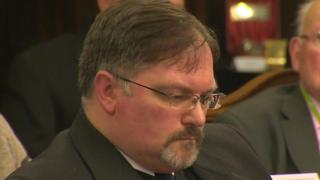 A councillor who spent thousands of pounds calling adult chat lines has been branded the "most expensive" in England by his own authority.
Wigan Independents' Robert Bleakley has refused to step down after running up a £2,500 bill on his work mobile.
He retains his council seat and an £11,000 allowance after turning up at his first meeting in five months.
Mr Bleakley, who the council said has been repaying the chat line bill, declined to comment.
Police called
Wigan Council boss Lord Peter Smith told the council meeting at Leigh Town Hall, Mr Bleakley was the country's "most expensive councillor at £2,000 an hour", considering the number of meetings he has been to.
"Even a banker would be embarrassed at that rate", he told the council.
BBC North West Tonight's Clare Fallon said Mr Bleakley remained silent during the meeting at Leigh Town Hall and did not respond to Lord Smith's comments.
Wigan Council said there had been no reasons submitted for his absence from council meetings and he had not informed the authority of any surgeries he had held in the period.
Mr Bleakley has refused repeated calls for him to quit despite an investigation that found he had also used his work mobile to send explicit text messages, had viewed pornographic material on his council-issued laptop and had deliberately altered an email to try to jeopardise a senior employee's job.
The Tyldsley councillor was also banned from speaking to female council staff after the chat line bill was revealed in September.
Under council rules, Mr Bleakley could have been removed from the council for non-attendance if he had failed to appear last night.
Police called
Meanwhile, in a separate incident, the meeting had to be adjourned and police called to remove a councillor who refused to leave the chamber.
Labour-controlled Wigan Council said Hindley Green councillor Bob Brierley was asked to leave for disrupting the meeting but refused despite the arrival of officers.
Lord Smith later tweeted: "We cannot allow people to disrupt meetings because they cannot behave."
Police confirmed officers assisted with removing a man from the meeting but said no criminal offences were committed.
Wigan Council said no further action was being taken against Mr Brierley at present.