Salford tower blocks transformed by £11m project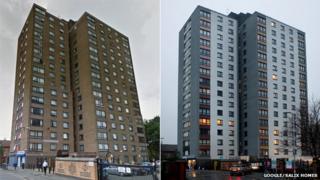 An £11m project to redevelop five tower blocks in Salford has been completed.
The work on Greyfriar, Blackfriar and Whitefriar Courts and Riverbank and Newbank Towers, all of which were built in the 1960s, has taken four years.
It has seen 447 flats refurbished with new cladding on the exteriors, painted in colours chosen by residents.
Housing provider Salix Homes' Mark Foster said the "landmark buildings" could now "stand proud for generations to come".
The refurbishment of the flats, which stand in the Greengate area of the city, has seen them re-fitted with new kitchens, bathrooms, doors, windows and heating systems.
Mr Foster said the work had turned the properties into "vibrant, modern homes fit for the 21st Century".