Bury bin collection service set up after council cuts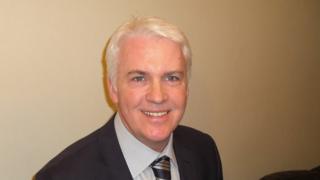 A Greater Manchester man is setting up his own bin collection service after a council cut the frequency of pick-ups.
Bury Council became the first local authority in England last October to only collect household rubbish once every three weeks.
It said it would save £800,000 a year as well as encouraging more recycling.
Craig Lavelle, from Worsley, will take away domestic rubbish for £8.40 per week per household - a move he believes will also save the council money.
"I have got four children and know how full the bin can get after only a week," he told BBC Radio Manchester.
"[With] three-weekly collections some people will be struggling and I feel there is a business opportunity here."
The 54-year-old managing director of Fresh Start Waste, a company which deals with commercial waste, said: "I feel people need a service and that is what I'm looking to do."
Burned
He said Bury Bins, the company he is launching on 1 March, will not do grey bin collections the same week as the council.
His collections would "enhance" the local authority's service, he said.
"The council will be collecting less waste so they will save money because the council pays waste by weight, so they will have less tonnage."
Mr Lavelle said the waste he collects will be burned and used to make energy.
He said he has not discussed his new business idea with Bury Council.
Tony Isherwood, cabinet member for the environment at Bury Council, said there was no need for Mr Lavelle's additional service.
He said "rubbish isn't piling up in the street" since the collection frequency was cut.
Mr Isherwood said the charge was "extortionate" and he would be "amazed if people paid £8.40 a week".
He added: "I urge people to recycle as much as they can and if they do there is no need for additional capacity.
"If people really can't manage then contact the council and we will arrange a waste order and sort your additional capacity out."