Alan Henning rugby tribute by Salford Red Devils and Swinton Lions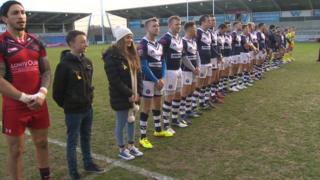 A fundraising rugby league match has taken place in memory of murdered British hostage Alan Henning.
The taxi driver, from Salford, was beheaded by Islamic State (IS) militants in October 2014 after being captured while delivering aid in Syria.
Mr Henning's family attended the tribute game played between Salford Red Devils and Swinton Lions at the AJ Bell Stadium.
The money raised will be put into trust funds for his children.
The teams were led out by Mr Henning's children, Adam and Lucy. A one-and-a-half minute clapping and name cheering tribute took place before the game.
Dr Marwan Koukash, owner of Salford Red Devils, said: "In my early life as a refugee I benefitted a great deal from the work of the Alan Henning's of this world.
"Alan was a true hero.
"I became aware that he also loved rugby more than football... and I decided to play a friendly with every penny raised going to Alan's family."
Mr Henning, known as Gadget, was on an aid convoy delivering food and supplies to Syrian refugees when he was kidnapped in December 2013.