Puppies found at Bolton Aldi: Abandoned pets freeze to death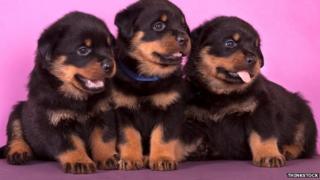 Three puppies died in freezing conditions after they were found abandoned in a holdall outside a Greater Manchester supermarket.
The week-old Rottweiler-type pets were discovered in the car park at Aldi in Higher Bridge Street, Bolton, on Monday morning.
The RSPCA has launched an investigation and is appealing for information.
A spokesman for the charity said: "There is no need for such cruelty."
Temperatures dropped to below freezing on Sunday night, when it is believed the animals were dumped.
People have taken to social media sites to express their disgust at whoever abandoned the pets.
Joanna Parks wrote: "That's so sad, I just can't understand why someone would do that."