Fred Talbot trial: Ex-TV weatherman 'was sex abuse chancer'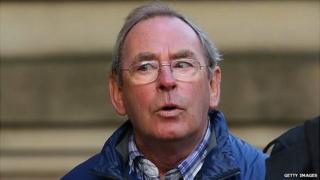 Former TV weather presenter Fred Talbot was a "chancer" who used his "extrovert personality" to help gain the trust of five schoolboys he sexually abused, a jury has heard.
The 65-year-old is said to have assaulted the teenagers between 1969 and 1984 while working as a teacher.
Four of the complainants were pupils at Altrincham Grammar School in Greater Manchester.
Mr Talbot, from nearby Bowdon, denies 10 counts of indecent assault.
Opening the case at Manchester Minshull Street Crown Court, prosecutor Neil Usher said: "The very qualities that made Fred Talbot so successful as a TV celebrity - his boundless energy, his infectious enthusiasm, his extrovert personality - helped him gain, we say, the trust of these boys.
'Extrovert personality'
"Trust, which the prosecution say, Mr Talbot repeatedly abused when, away from their parents on school trips organised by Mr Talbot, he sexually assaulted each of them.
"We say that when it came to teenage boys in his care, Fred Talbot was something of a 'chancer' - one of these men who regularly and repeatedly tries it on with his intended victim as often as he can in the hope that his sexual advances will not be rejected.
"Or, at the very least, the sexual advances will be met by a passive response due to confusion, fear, intoxication or youthful inexperience of how to react when being placed in such an unusual, shocking and, no doubt on occasion, frightening position.
"And we say that, like many child abusers who are in a position of authority who are confident and who are plainly well liked by their peers, he gambled that each of the boys he took advantage of would find it impossible to speak out and tell other adults what he had done, either through fear of not being believed or because it would inevitably involve speaking to parents or other teachers about embarrassing matters of a sexual, indeed homosexual, nature."
The jury of nine women and three men were told many would know Mr Talbot as "Fred the Weatherman".
The former biology teacher is best known for his work on the ITV programme This Morning in the late 1980s and 1990s when it was hosted by Richard Madeley and Judy Finnigan.
He was a regular on the floating weather map in Liverpool's Albert Dock.
Mr Usher said the allegations related to two periods, firstly when Mr Talbot was a trainee teacher in Newcastle-upon-Tyne in the late 1960s and early 1970s, and secondly from the mid-1970s to 1984, when he taught in Altrincham.
The prosecutor said Mr Talbot says nothing sexual or even inappropriate occurred between himself and the Altrincham pupils, while he states that sexual activity with the complainant during his teacher training only happened when the boy turned 16.
'Overnight visits'
The first complainant said he came from a very poor background and first met Mr Talbot when he was a trainee teacher and visited his school, Elgin Senior High School, in Gateshead.
Mr Usher said: "Meeting Mr Talbot meant he was able to go places and do things and meet people he would never have been able to had the defendant not taken him under his wing."
The complainant told the jury he had begun regularly visiting Mr Talbot's bedsit near Newcastle and eventually shared a bed with him.
He said he was "stunned" on the first occasion when Mr Talbot indecently assaulted him.
The witness said he was "pushing and manoeuvring himself against him" in a sexual manner.
He told the court: "I was stunned. I was 14 years old, I was inexperienced. I had had no sexual activity before."
The complainant said sexual activity followed at the bedsit between the pair "many more times".
The court heard the complainant is clear the defendant never forced himself upon him, but described Mr Talbot coaxing him into letting him perform sexual acts on him.
On one occasion he recalled, when still aged 15, he went to a ball at Mr Talbot's teacher training college with a girl, and later the defendant unzipped his trousers and performed oral sex on him outside.
'Dossier in the bin'
The witness also told Mr Usher he discovered a file at the defendant's bedsit that had a negative photo of him on the front and his name printed on the side.
He told the jury: "I felt awful that somebody was writing something about me that I didn't know about, like some sort of dossier.
"I recall putting it in a bin at a bus stop."
The complainant said he came forward following publicity about Mr Talbot's investigation and told his wife for the first time before then contacting the police.
"I think being so young at the time and thinking about it later I knew it was wrong and dirty and it should not have happened. I didn't tell anyone over the years... it was hard to get out."
The witness asked for the dock to be screened so he did not have to face Mr Talbot as he gave evidence.
The trial, which is expected to last between three and four weeks, continues.