Fred Talbot trial: Ex-TV weatherman 'staged naked orgy'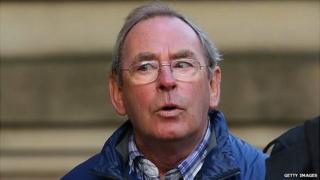 Former TV weather presenter Fred Talbot staged a naked orgy involving 10 drunken schoolboys on a canal barge before later sexually abusing one of them on board, a jury has heard.
The former teacher, 65, allegedly asked some of the pupils to pretend they were girls and lie on top of each other as photographs were taken.
The incident is said to have taken place on a school trip in the 1970s.
Mr Talbot denies 10 counts of indecent assault.
Manchester Minshull Street Crown Court heard the weekend trip was organised by Mr Talbot, who at the time taught biology at Altrincham Grammar School for Boys.
The court was told the alleged victim - who believed he was aged 14 at the time - was "quite drunk" after Mr Talbot, two of his adult friends and some older boys on the excursion returned from the pub and shared beers they had brought with younger boys.
Double bed
He said: "[Talbot] said let's pretend we have got some girls back from the pub and we had an orgy.
"He said we needed to take some photographs so you can pretend there is some girls here.
"We were very drunk. I think they turned the heat up and we took our clothes off.
"One boy would lie on another boy and would pretend the one underneath was a girl.
"They took a lot of photos."
He recalled one of Mr Talbot's friends on the trip was a man in his late 20s or early 30s nicknamed Spider, who wore biker-type clothing
The witness said Mr Talbot was "in charge" and "telling us what to do".
He said the "orgy" went on for up to two hours before everyone went to sleep and Mr Talbot said he was to stay in his double bed because there were not enough bunk beds for all the schoolboys.
The complainant said in a partitioned area of the barge the pair slept naked before Mr Talbot fondled him.
He told the court: "He showed me what to do. He said this is natural and this is how men touch other men, because I didn't know what was going on."
The following morning, he said Mr Talbot told him to never speak about the incidents.
'Exaggerated'
The complainant said he lacked confidence at school and had few friends, and was flattered by the attention of Mr Talbot who he described as a "friendly, kind of hip" teacher.
The witness made his first complaint to police about Mr Talbot in 1992 because he "thought it was the right thing to do", the court heard.
He received a reply from police later that year saying there was "insufficient evidence" to "justify further investigation".
Four years later, when he read in the newspapers about a sex abuse investigation in Manchester, he went on to provide a statement that recalled the events on the barge, but admitted he "exaggerated" the extent of the alleged sexual activity.
Asked by prosecutor Neil Usher why he lied, the witness said: "I think I was angry and annoyed that the prosecution had not gone ahead. It was a very stupid thing to do."
The court heard the witness said he withdrew his exaggeration and went on to make more complaints about Mr Talbot in 1998 and 2000 before he was contacted by police recently as part of the current investigation.
Asked if any of his complaints against the defendant were financially motivated, he replied "no".
Mr Talbot, 65, denies indecently assaulting five underage boys between the late 1960s and the early 1980s during his former career as a teacher.
Four of the complainants were teenage pupils at Altrincham Grammar School for Boys.
Mr Talbot, of Bowdon, Greater Manchester, was a regular on the floating weather map in Liverpool's Albert Dock on ITV's This Morning show.