Reuben's Retreat: Family raise more than £1m in memory of Reuben Graham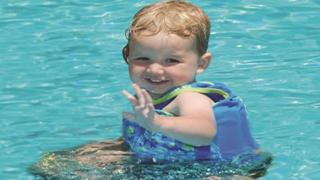 BBC Radio Manchester is taking a journey across Greater Manchester's 10 boroughs to meet some of the most inspiring people who live in the region. Here is the latest in the series:
The Grahams were on a family camping holiday in Devon in August 2012 when their young son Reuben had to be rushed to hospital.
It turns out the 23-month-old, who had been poorly for about four weeks, causing doctors to initially diagnose a virus, had a rare and highly aggressive form of cancer, Childhood Central Nervous System Atypical Teratoid/Rhabdoid Tumor.
The little boy, described by his mum Nicola as a "beautiful, handsome, cheeky, comedic little boy with an old soul", was quickly transferred by air ambulance to the neurological unit at Frenchay Hospital in Bristol where he underwent hours of surgery to relieve the pressure on his brain.
Despite doctors' best efforts, he could not be saved. Nicola said her son "was handed to myself and he passed away in my arms".
Nicola, her husband Mike and their other son Isaac, who is now seven, were stunned by what had happened to them.
The family had to make the journey back to Tameside but by the time they reached their home in Mottram, they had decided what they were going to do as a tribute to their little boy.
'Legacy'
Two days later their charity, Reuben's Retreat was founded, and it has already raised more than £1m.
The Grahams decided they would raise money to open a retreat to act as a home-from-home for children with life-limiting and life-threatening diseases.
They have bought a building in the Peak District, which is expected to open later this year.
There will be rooms and self-catering accommodation so families can go and stay there with support from medical staff.
"It's going to be fantastic and help so many families and Reuben's legacy will live on and will outlive us".
They also provide a support service for people who have lost children - in less than two years, the charity has supported more than 80 families with bereavement counselling.
Monday, 12 January: Coping with Jack's diagnosis (Wigan)
Tuesday, 13 January: Hitting rock bottom (Stockport)
Wednesday, 14 January: Living with Parkinson's Disease (Oldham)
Thursday, 15 January: 'I waited nine years for answers' (Trafford)
Friday, 16 January: 'Cherish your precious moments' (Manchester)
Monday, 19 January: 'Craig would be flabbergasted' (Salford)
Tuesday, 20 January: 'My family are really proud of me' (Rochdale)
Wednesday, 21 January: 'Continuing Super Josh's amzing legacy' (Bury)