Wythenshawe Park campers with 'baby mementos' tin sought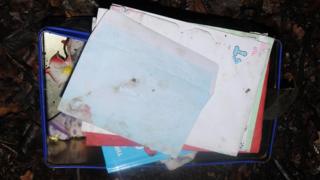 The occupants of a makeshift camp at a Manchester park are being sought after a tin filled with "baby mementos" was found in an abandoned tent.
Officers found the tent after being called to Wythenshawe Park on Tuesday.
Greater Manchester Police said there was "no evidence that anything untoward" had happened.
Det Ch Insp Andy Cunliffe said the tent had been lived in "for some time" and police were concerned about the occupants.
He said it was unclear whether one or more than one person had stayed there.
"We have had a police presence on the park for a few days but they have not returned and we are eager to make sure they have not come to any harm," he said.
An image of the mementos has been issued by police in the hope someone would recognise them.
Det Ch Insp Cunliffe said he was "keen to reunite them with their rightful owner and ensure they are safe and well".