Prime Minister honours Xplode Magazine's Saeed Atcha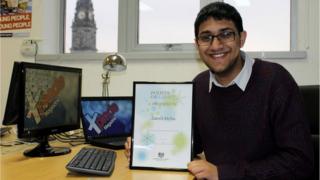 A teenage magazine director has been praised for his "tireless dedication" by Prime Minister David Cameron.
Bolton's Saeed Atcha, who presents on three local radio stations, set up Xplode Magazine when he was 15 to promote a positive image of young people in his community.
The magazine is run entirely by young people and reaches over 23,000 readers.
Accepting a Point of Light award from Mr Cameron, the 18-year-old said it was "a real honour".
He said he had set up the quarterly magazine not only to improve the image of young people, but also help them develop job skills.
To date, it has provided work experience to 95 young people.
Mr Atcha volunteers up to 30 hours a week at the magazine and combines his media roles with his studies at Manchester Metropolitan University.
He said he was "thankful to my team who work tirelessly to give Bolton's young people the opportunity to do something positive with their lives".
Mr Cameron said the 18-year-old had "created a great way for young people to make their voices heard and develop the skills that will help them to find work".
Point of Light awards recognise outstanding individual volunteers who are inspiring others.
They were developed in partnership with the Point of Light programme in the USA established by President George H. W. Bush.