'Partly exploded' Ramsbottom church re-opens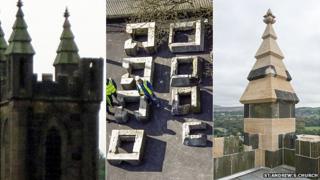 A church in Greater Manchester, which partly "exploded" when it was hit by lightning, has re-opened.
A tower pinnacle at Ramsbottom's St Andrew's Church broke up when it was struck in July 2013 and smashed through the church's roof.
Church warden Ian Ashworth said it was like a war scene, as pieces of masonry scattered up to 130ft (40m) away.
Reverend Andy Lindop, who led a service of rededication, said it had been a "major restoration job".
He said the 8ft (2.4m) pinnacle "fell through the roof and balcony and destroyed everything in its path".
As a result, he said the building required extensive restoration, including all the electrics being renewed.
He said the church had "also taken the opportunity to put in a new kitchen and toilets, so it's more easily usable for people going forward".
The restoration work was funded through the church's insurance, while the new facilities have been paid for by fundraising work.
St Andrew's is the oldest church in Ramsbottom and was built in 1834 by the local Grant family, as a Scottish Presbyterian Church.