Fred Talbot trial: Ex-weatherman propositioned boy, 15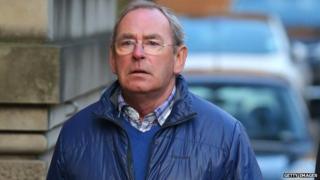 TV weatherman Fred Talbot propositioned a teenage boy in the cellar of his home after telling him it was okay to be gay, a court heard.
Mr Talbot, 65, told Alan Maslen, then aged 15, if he wanted to experiment sexually with other males, he would be "happy to oblige".
The ex-teacher, of Bowdon, Greater Manchester, denies 10 counts of indecent assault.
He is accused of assaulting five boys in the late 60s to the early 1980s.
Manchester Minshull Street Crown Court heard Mr Maslen attended Altrincham Grammar School from 1972-77, where Mr Talbot taught.
He said the school was an old-fashioned grammar where "discipline was king", but the former Granada weatherman was seen as "one of the boys", who would buy pupils rounds in a local pub and chat about sex.
'Telescope alibi'
Mr Maslen, who is not a victim of sexual assault, told the court: "On one occasion he told me of his bisexuality and if I ever had thoughts of having sexual contact with boys or men, it's not to be ashamed of.
"If ever I was interested in experimentation in sexual activity with another male, then I should look no further and he would be happy to oblige."
He declined an invitation twice from Mr Talbot to his house at closing time after drinking in the pub, where both alcohol and "dope" were available, it was said. If asked he could tell his parents he was using Mr Talbot's telescope to "observe meteorites".
On one occasion Mr Maslen went with boys from his band to Mr Talbot's house in Altrincham because he offered to record them playing in his cellar.
The jury heard when the other boys either left or were sent on errands he found himself alone in the cellar with Mr Talbot who said: "You know what I want to do with you, don't you?"
As Mr Talbot walked across the room towards him, Mr Maslen told how he shouted "no".
"I sprang to my feet with my electric guitar, swung it around and shouted as loudly as I could, then he stopped," he said.
'Error of judgement'
Mr Talbot then told him: "Fine."
The court was told the witness never told anyone in detail until the police investigation traced him.
Mr Maslen said: "I put it down to an error of judgement on his part. No harm was done. He never got to lay his hands on me."
Suzanne Goddard QC, defending, suggested the passage of time had clouded the witness's memory.
Mr Maslen replied: "It absolutely happened."
The trial continues.