Fred Talbot trial: Pupil allegation 'ended TV weatherman's teaching career'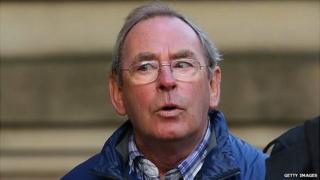 Former TV weather presenter Fred Talbot's teaching career came to "an abrupt end" over a claim that he indecently propositioned a schoolboy, a court heard.
Mr Talbot is said to have told a colleague "30 seconds vastly altered his life" after the 1984 allegation.
The 65-year-old denies 10 historical counts of indecent assault.
In court a former teacher recalled speaking to him soon after he left Altrincham Grammar School for Boys.
Giving evidence at Manchester's Minshull Street Crown Court, Keith Knowles said: "He said that he had been dismissed for making inappropriate comments, or something like that, to a boy, and the parent had complained and he had been dismissed or asked to resign."
Mr Knowles said he kept a diary at the time, and had noted: "He told me he had made suggestions to a boy and the parent had complained. That 30 seconds had vastly altered his life."
The diary entry went on: "Also he 'resigned' a while ago. That was over the same thing he said. He should never have been talked into going back to school."
Mr Knowles confirmed to prosecutor Neil Usher that Mr Talbot had not actually resigned over the original allegation.
He told the court: "By the sound of it he had offered to resign but had not actually done it."
The jury has previously heard that Mr Talbot's time at the Greater Manchester school ended following an alleged incident at his home when he had invited boys over as part of an astronomy study.
One of the boys said he was propositioned by Mr Talbot who asked him if he could perform a sex act on him.
Mr Talbot denies that any such proposition occurred.
The jury later heard how Mr Talbot was first arrested in 1992 by Cheshire Police following a complaint from one of the alleged victims in this trial.
Two officers visited his home in Bowdon, Greater Manchester, and told him a former pupil had claimed Mr Talbot abused him.
Mr Talbot told the officers: "You are joking."
He went on to say: "I don't believe this. I will have to have a cigarette."
Diaries seized
Mr Talbot denied any wrongdoing, and no further action was taken at the time.
In the current police investigation, officers seized items from Mr Talbot's home including several diaries and journals, the court heard.
Mr Usher told the jury: "The defendant admits that entries in his diaries marked by an asterisk are occasions when he engaged in sexual activity."
But the jury was told Mr Talbot said the asterisk-marked entries indicated when he suffered panic attacks.
He largely gave no comment to questions during a police interview in April 2013, following advice from his solicitor, the court heard.
He gave no comment when asked about a 1981 diary entry, which read: "Some thoughts on the two previous trips.
"You have messed it up. You have no right. You are in the wrong. Each individual has rights that cannot be infringed.
"You are in a position of influence. Let there be no tears shed."
He did confirm to detectives that he was gay, the jury heard.
Mr Talbot is best known for presenting the weather forecast on a floating map in Liverpool's Albert Dock for ITV's This Morning programme.
He denies indecently assaulting five underage boys between the late 1960s and the early 1980s.
The trial continues.