Greater Manchester tram workers to stage 24-hour strike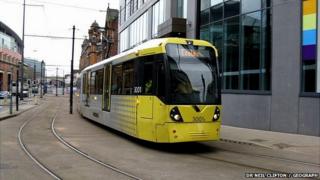 Workers on Greater Manchester's Metrolink tram system have voted to go on strike in a dispute over pay.
Members of the Unite union have voted to walk out for 24 hours on Wednesday 11 February.
The action could bring the tram network to a halt, but Transport for Greater Manchester (TFGM) says it will try to minimise the impact on passengers.
Andrew Fender, chairman of the TFGM committee, said the planned strike was "simply not justified."
"In addition to the disruption and inconvenience that strikes would cause, the impact on Metrolink revenues could eventually lead to a call for fares increases that no one wants," he said.
'Exhausted all options'
Tram workers' pay and conditions are supervised by Metrolink RATP Dev Ltd, which is contracted to operate the tram network by TFGM.
Managing director Chris Coleman said: "Industrial action at Metrolink is something we have worked hard to avoid at all costs.
"We have now reached a point where we have exhausted all options.
"We have worked hard with Unite as part of a series of lengthy negotiation meetings which started in May last year and we were able to arrive at a recommended pay deal of 3.5% over two years.
"Unfortunately, this was rejected by Unite members and a ballot for industrial action took place which resulted in a 'yes' vote for industrial action."