Snowdrops bloom in Manchester for WWI centenary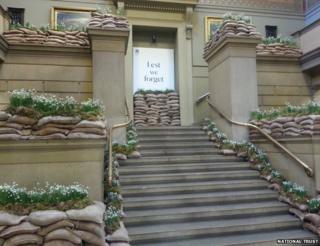 About 100,000 snowdrops are blooming across Manchester in a project to mark the centenary of World War One.
A symbol of hope and peace, the flowers were chosen because they were planted at soldiers' graves to make them appear "less bleak".
Sean Harkin from the National Trust (NT) said they would "leave a lasting legacy".
Manchester Art Gallery has displayed 30,000 snowdrops above sandbags in an imitation of a war bunker.
Other locations include Manchester Cathedral, the Northern Quarter and six other places around the city.
As part of the Trust's 'Snowdrop City' project , volunteers from community groups and schools planted the bulbs last year ahead of their flowering, which usually occurs between January and April.
---
Snowdrop facts
Perennial flowering plants of the Galanthus genus
There are about 20 species of wild snowdrop in the world
Part of the onion family
Some of the first bulbs of the year to bloom
Found in many woodlands, churchyards, parks and gardens
---
"We are incredibly proud of this project that the people of Manchester have created together to remember the people of the First World War," said Mr Harkin, who is the city's gardener-in-residence for the NT.
The bunker exhibit at the Manchester Art Gallery will run throughout February alongside the 'Heaven in a Hell of War' display showing the work of British painter Stanley Spencer, who was a soldier at Salonika in northern Greece during World War One.
The gallery's snowdrops will then be replanted at a permanent home in Brookdale Park in Newton Heath.