Rochdale to unveil memorial to soldiers killed in Gallipoli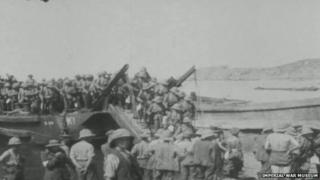 A memorial to hundreds of soldiers killed in an infamous World War One campaign is to be unveiled in Rochdale.
In August 1914, some 1,000 men from the Lancashire Fusiliers gathered in the town before leaving to fight in the Gallipoli campaign.
In total, more than 100,000 died in the failed allied bid to win a foothold in Turkey.
Plans have been made to install a memorial stone in Rochdale to mark the centenary of the start of the campaign.
Mark of respect
The stone will be unveiled in Rochdale Memorial Gardens during a ceremony on 28 June.
The event, which will include a military parade in the town centre, will form part of the town's Armed Forces Day celebrations.
In the meantime, Rochdale Borough Council is asking people whose relatives fought in Gallipoli to contact them so they can take part in the parade in their honour.
Councillor Alan McCarthy said: "I hope as many descendants as possible are able to attend to remember their loved ones, along with members of the public who also want to join with us as we pay our respects."
---
Allied troops landed on the Gallipoli peninsula in Ottoman Turkey at dawn on 25 April 1915
The campaign was the land-based element of a strategy intended to allow Allied ships to pass through the Dardanelles and capture Constantinople (now Istanbul)
Gallipoli saw intensive trench warfare, particularly at Anzac Cove
A decision to evacuate was made in December 1915
Source: Imperial War Museums
---