Heritage Lottery Funding secured for Quarry Bank Mill in Cheshire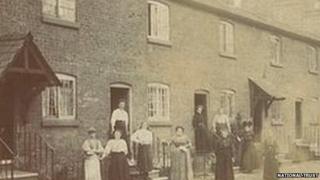 Plans to restore a Cheshire cotton mill estate which was at the heart of the industrial revolution have been boosted by a £3.9m grant.
Quarry Bank Mill was at the centre of the North West's cotton production between the 1780s and 1920s.
The National Trust, which runs it as a museum, said funding from the Heritage Lottery Fund would help ensure the site's "long-term conservation".
The project would reopen gardens, an 1830s glasshouse and Quarry Bank house.
In 2013, the trust launched an appeal for £1.4m but needs £6m to completely restore the mill and the estate.
The trust will also put archives of the family, workers and the children - which are not yet available to the public - into digital form.
Quarry Bank Mill was built by the Greg family, with the estate offering housing for adult workers.
There was also a village complete with chapels, a school, a shop, allotments and a farm to provide food for the mill community.
A shop and a worker's cottage has also been earmarked for restoration as part of the project.