Bishop Libby Lane calls for end to trafficking 'evil'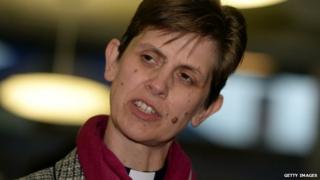 The Church of England's first female bishop has used her first official public appearance to highlight the "evil" of human trafficking.
The Rt Rev Libby Lane called for more support for victims, at the launch of Manchester Airport's Travel Safe Week.
"This evil that we are addressing will not go away without commitment and struggle," the bishop said.
According to children's charity Unicef, 1.2 million children are trafficked every year.
'Difficult stories'
Bishop Lane, who was ordained as the Bishop of Stockport last month, said: "I want to honour the work already being done by Manchester Airport and its partners... and above all the work being done by the Border Force and our police in protecting those who are in danger of violence and exploitation."
The bishop, who was joined at the campaign launch by her husband, the Rev George Lane, a chaplain at the airport, added: "Part of the work of those who lead religious communities is to be alongside those who are vulnerable and at risk.
"Sometimes that means we are exposed to difficult circumstances and to difficult stories."
Travel Safe Week, now in its third year, trains the 19,000 people who work at the airport to be aware of the signs of human trafficking and help protect vulnerable passengers.
The Archbishop of Canterbury Justin Welby joined other world faith leaders in December to sign a declaration calling for an end to modern slavery by 2020.
Human trafficking is said to be the second largest source of illegal income worldwide after the drugs trade.