'Terrified' children see Bolton mother's T-shirt on fire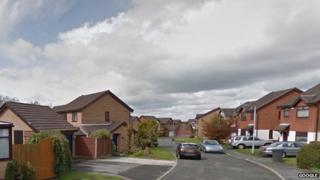 A woman suffered burns to her back after her T-shirt caught fire in front of her three "terrified" children in Bolton, the fire service said.
The woman, aged 40, had been bending down to pick up a tablet device near a gas fire at her home in Oldstead Grove at about 21:45 GMT on Tuesday.
She was treated at the scene before being taken to hospital for back and hand injuries.
Watch manager Ian Read urged people to be "very careful" near open fires.
He said it appeared the woman had been reaching down close to the gas fire when her T-shirt was set alight.
"She has burned her back quite badly and also her hands where she has tried to get it off.
"There were three children there and they were very upset to see this," Mr Read said.