Army intelligence unit 6 MI seeks 'curious minds'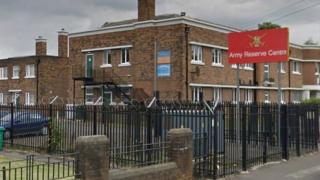 A new battalion of "soldier puzzlers" is to be formed in Manchester.
The "almost entirely reservists" unit, named 6 Military Intelligence (6 MI), will analyse data, turn it into useful intelligence and help plan future operations", an Army spokesman said.
Based in Rusholme, it will be led by Lt Col Phaedra McLean, the first female reservist to command an Intelligence Corps Reserve Battalion.
She said recruits needed a "curious mind" and a desire to solve problems.
Those working in 6 MI could find themselves doing anything from "piecing together bits of information provided by other agencies to analysing bomb craters", the Army spokesman said.
'Analytical work'
He said the 300-strong battalion was being created under the Army 2020 plan, which will see reservists play a greater role.
He added that Manchester had been chosen as the base for 6 MI because of the area's academic reputation.
There will also be detachments in Stourbridge in the West Midlands, Bletchley in Buckinghamshire and Lisburn in Northern Ireland.
Lt Col McLean said the unit, which will be "responsible for analytical work and the provision of accurate, timely intelligence", was already "40% staffed with more people in the pipeline".
She added: "We know that the North West can provide the kind of people who can carry out that work. I would encourage anybody who thinks they might be interested in the challenge to get in touch."
The 48-year-old from Macclesfield has served as a PC in the Cheshire Constabulary for 30 years, only giving up the role to take up her new post on Friday.
She has been an Army Reservist for 28 years, serving in London towards operations in Iraq in 2002 and in Afghanistan four years later.