Tyldesley man dies in electric heater fire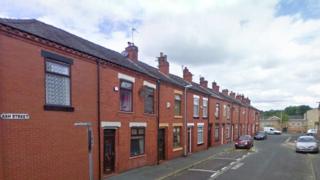 A 49-year-old man has died in a fire caused by an electric heater at a house in Greater Manchester.
His body was found in a bedroom of the property in Ash Street, Tyldesley at about 18:40 GMT on Tuesday.
Firefighters believe the blaze, which was out when they arrived, had spread to his bedding and clothes.
Greater Manchester Fire and Rescue Authority chairman David Acton urged people to "take care" when using electrical heaters.
"They are extremely powerful and anything placed too near to them will catch light.
"If you need to use an electric heater, place it in the centre of a room well away from furniture or other flammable items and ensure it is stable and can't topple over," he said.