Salford Council funding cuts will affect 'most vulnerable', says mayor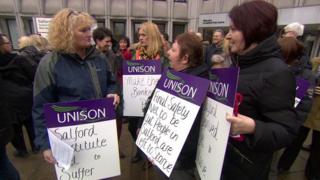 Vulnerable people in Salford will suffer as a result of government funding cuts, the city's mayor said.
Salford City Council approved cuts of £31m for the next year, with a further 15% reduction the following year.
Ian Stewart said some vulnerable people "will no longer get the services they need."
About 50 protesters were outside Salford Civic Centre as the budget was set, with council tax frozen for a sixth consecutive year.
Unions asked for a delay until after the general election, with staff needing to be "genuinely consulted".
Paul Gerrard, chair of Salford against Cuts, said: "Labour should not have passed these cuts on willy-nilly.
"Labour should be making a stand against the Tory government to fight back for the resources for cities like Salford, that has had so many resources robbed from them in the last few years."
'Families will lose'
The council said measures to save money included reviewing its youth services and reducing the number of children coming into care by providing early help.
Last month, the council said 200 posts will be lost in 2015-16 from its 8,500 workforce, with the same number again during the following financial year.
The government had now taken away 43% of its original budget, said Mr Stewart.
"The losers are the individual families. They are the minority, but I'm sorry for them.
"If the government didn't take this money away, we would not make these cuts. If we have to make the cuts, we try to do it as openly and sensitively as possible."
Elsewhere, Oldham Council approved cuts of £35m for its 2015-16 budget.
In Bolton, plans to save £43m from its budget over the next two years were accepted by councillors.
Bury Council confirmed a cut of about £16m in the next year, with Stockport Council due to set its budget later.
Meanwhile, Conservative-led Cheshire East Council has approved a two-year council tax freeze and announced it is increasing spending on vulnerable adults, roads and infrastructure.
Leader Michael Jones said: "This is the best budget in the North West and one of the strongest in the UK."