Salford square renamed after city's first fire chief Albert Bentley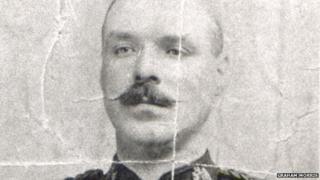 A square in Salford has been renamed in honour of the city's first fire chief.
Albion Place, site of Salford's first fire station, has been renamed after Albert Bentley, who became head of the local fire brigade in 1898.
Salford Mayor Ian Stewart said he "had the vision for the central fire station", which opened in 1903 with five engines and stables for 11 horses.
Mr Bentley's great-great grandson Graham Morris, who campaigned for the renaming, said he was "very proud".
"He was very inventive and brought a kind of military discipline to the fire brigade that hadn't existed before," he added.
"The fact that the city built the fire station to his design, along with houses so the firemen were ready to jump out of bed and respond to an emergency, shows the power and respect he achieved.
"He would also join his men in fighting fires, suffering several personal injuries, even though he was the chief fire officer."
'Saved thousands of lives'
Born in Bradford, Mr Bentley joined the police as a teenager before rising up to the rank of superintendent. He was then promoted to the role of first chief fire officer in Salford.
Mr Stewart said he also built 30 underground water tanks in high fire risk areas in Salford, where the water supply was poor, which were still used in the 1990s.
"He added an ambulance to the fire service, enabling the injured to be dealt with more swiftly.
"Fire officers came from across Britain to see his station, his inventions and learn from his innovation. He undoubtedly saved thousands of lives."
Mr Bentley lived with his family alongside the fire station - now near the University of Salford - until his death from pneumonia in 1904.
A local paper reported that, during his funeral procession, "the streets were thronged by thousands of sympathetic onlookers" and "many of the residents had lowered their blinds as a mark of respect".
Six bearers accompanied his coffin to Bradford where he was buried at Scholemoor Cemetery.