Nazakat Ali jailed for stabbing Rochdale woman 15 times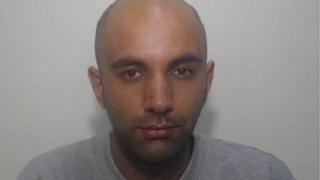 A man who stabbed a woman 15 times has been jailed for 14 years.
Having admitted attempted murder at an earlier hearing, Nazakat Ali, 30 and from Rochdale, was sentenced at Manchester Crown Court on Friday.
His victim survived despite receiving wounds to her head, neck and abdomen. Her aortic artery - which pumps blood from the heart - was also severed.
"This is one of the most brutal and horrific attacks I have experienced," said Det Sgt Louise Ashurst.
The court heard that, on 29 September 2014, Ali and the victim started arguing at a house in the town.
Ali's mother, who was also at the Rochdale property, entered the room and saw Ali holding a knife, Greater Manchester Police added.
She said both she and the victim leapt up to try to remove the knife from his grasp, but they were unable to do so.
The sheer force of the attack resulted in the victim being stabbed "through her hand, breaking her forefinger", police said.
After stabbing her repeatedly, Ali then ran away, leaving her lying in a pool of blood as his mother screamed for help, police said.
"The injuries she suffered were so severe that the first officer on the scene thought she was dead," Det Sgt Ashurst added.
"It was only after the officer felt for her pulse that he realised she was still alive and even then it was touch and go, with the victim undergoing life-threatening surgery and several harrowing weeks in intensive care.
"But the victim was strong and brave, and I hope this sentence goes some way to helping her overcome what has happened."