Immigration raids: Ten held at Lal Qila restaurants in Manchester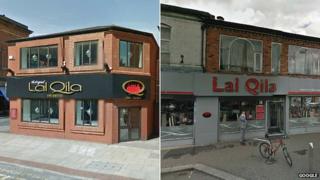 Ten men have been arrested by immigration officers in raids at two Indian restaurants in Manchester.
The men were held at branches of the Lal Qila restaurant chain on Deansgate and Wilmslow Road, Rusholme on Friday night.
Four Pakistani men, aged 27, 31, 38, and 47, and a 27-year-old Afghani man were found to be working illegally.
A further five men were held on suspicion of knowingly employing illegal workers.
A statement from the Home Office said the illegal immigrants will be deported.
The other men have been released on bail pending further enquiries.
Home Office investigator Dave Magrath said: "This was a large scale operation in relation to suspected immigration abuse in Manchester.
"Our investigations will continue with the evidence we have seized."