Manchester's leaders say 'ignore' EDL protesters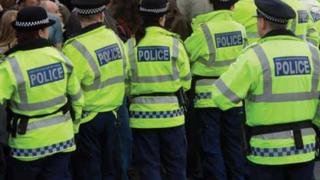 Religious and political leaders have urged people to "turn their backs and ignore" English Defence League (EDL) protesters in Manchester this weekend.
Thirty-five dignitaries in the area have signed a letter saying EDL values "fly in the face of the Mancunian vision of acceptance and peace".
The demonstration is planned to take place in Albert Square in Manchester city centre on Saturday.
The EDL says it is protesting against militant Islam.
Greater Manchester police commissioner Tony Lloyd said: "Personally, I would say to the EDL, please we don't really need you on these streets, you don't add to our sense of harmony, you don't add to the political debate that is legitimate in the city of Manchester and our country. Please don't come."
A vigil is being held at Manchester Cathedral at 15:30 GMT on Friday with faith, community and civic leaders to show unity against the EDL.
The letter
We are proud of the tradition of protest that we have here in our great city. From the anti-slavery movement, to the Suffragettes, to pro-democracy demonstrations, to rallies against war and austerity, Manchester has always been a place where people can make their voice heard.
We're also proud of our tradition of inclusion and diversity. No matter who you are, you can be yourself in Manchester.
We stand united in our affirmation of the value of every human being, and against anything that would seek to divide our communities.
This weekend sees the English Defence League return to Manchester city centre. They have little support in this city, as each time they have come they have had to bus in their supporters from elsewhere.
Their values of hatred and division fly in the face of the Mancunian vision of acceptance and peace. So how do we respond to their arrival in our city?
We recommend that Mancunians do what they have done before - ignore them. The most powerful thing we can do is not to shout back at these people, but simply turn our backs. We do not want to give credit to their campaign.
We are confident the police and city council have a clear plan in place to minimise disruption and will not tolerate any lawbreaking. Our city centre is open for business as usual and, like every weekend, we urge everyone to come here and enjoy the great things that Manchester has to offer.
Those who signed the letter include:
Archbishop Doyé Teido Agama, senior pastor at Christian Way of Life Churches
Heather Fletcher, co-chair of the Muslim Jewish Forum of Greater Manchester
Rabbi Jonathan Guttentag, from Whitefield Synagogue
Sir Richard Leese, leader of Manchester City Council
Tony Lloyd, Greater Manchester police and crime commissioner
Paul Martin, chief executive of The Lesbian and Gay Foundation
Imam Rashid Musa, Imam of Salford