Library Walk: Manchester walkway will be closed at night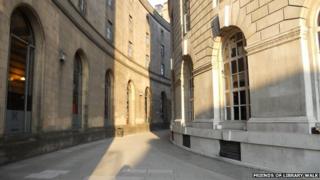 A council has won its fight to close a "unique" public walkway at night as part of plans to expand Manchester's main library.
Manchester City Council has built a £3.5m glass passageway across Library Walk, linking the library and the town hall extension.
Glass doors will allow the public to pass through the structure, but they will be locked between 22:00 and 06:00.
Campaigners objected, but a planning inquiry backed the council.
A council spokesman said: "We are pleased that the planning inspector has found in our favour.
"We firmly believe that this link building transforms an underused - and sometimes abused - shortcut into a welcoming walkway and a clear and visible entrance connecting the central library with the town hall extension in one integrated complex."
However, Morag Rose, of the Friends of Library Walk campaign group, said the walkway was "unique" and the council was committing "cultural vandalism".
A 1,300-signature petition against the glass structure was submitted when the council announced plans to create it in 2012.
Campaigners say Library Walk, which dates back to the 1930s, is one of the few corners in the city centre where pedestrians can escape traffic and noise pollution.
"We are also deeply concerned about the precedent this sets regarding the enclosure of public space," Ms Rose said.
"Manchester City Council granted itself planning permission and proceeded to build over a public right of way despite clear opposition from residents.
"We have always felt their justifications for doing this were spurious."