Orrell Interchange closure: M6 junction 26 shut for weekend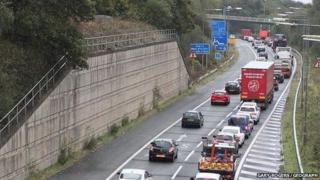 The busy Orrell Interchange on the M6 motorway in Greater Manchester will be closed this weekend due to road works.
Junction 26, near Wigan, will be shut from 22:00 GMT on Friday to 05:00 on Monday as extra lanes are added.
It is part of a £4.1m makeover to reduce congestion and improve safety, which is due to finish this month, the Highways Agency said.
The northbound entry and exit slip roads linking the M6 to the M58 will remain open, it added.
Highways Agency project manager Philip Tyrrell said the the main carriageways on the M6 and M58 would also be open.
However, the southbound entry and exit slip roads on the M6 will be shut for the entire weekend.
Diversions will also be in place for local traffic as the roundabout to the east of the junction and the link road to the A577 will be closed.
"This project will cut congestion at one of busiest motorway junctions in the country and we're now at the stage where we can lay the new road surface," Mr Tyrell said.
The Orrell project is one of 30 schemes in north-west England - costing a total of £66m - which aim to boost economic growth by cutting congestion. They are part of the government's £300m "pinch-point" programme to improve the country's road network.