Police cars rammed during pursuit of van in Greater Manchester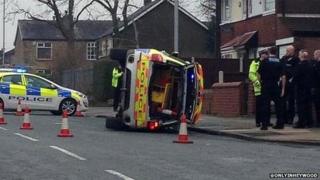 A suspected van thief rammed two police cars during a 10 mile high-speed chase through Greater Manchester.
The parked van was stolen around 10:00 GMT in Haslingden, Lancashire, with the owner still in the back.
During the pursuit, it reversed into two police cars, overturning one of them and injuring two officers. Several other vehicles were also damaged.
A Greater Manchester Police spokesman said: "It is astonishing nobody was seriously injured."
Police followed the vehicle on to the M66 southbound after spotting the van in Bury.
On leaving the Pilsworth junction the offender stopped and reversed backwards, ramming a police car, which overturned.
The two officers inside escaped with minor injuries.
The van continued and caused several collisions with parked and moving cars on the road.
A police spokesman said a 25-year-old male is being held on suspicion of stealing a motor vehicle, dangerous driving, drink driving and assault.